dōTERRA® oils available through Pura Vida Yoga!
Why use essential oils?
Amp up your energy
Clean your home naturally
Promote creativity
Detox hair, skin, and body
Provide aromatherapy
Use as dietary supplements
Heal skin irritations
Improve your mental clarity
Inspire creativity and motivation
…and MORE!
Why dōTERRA® products?
"When you choose dōTERRA®, you are choosing essential oils gently and carefully distilled from plants that have been patiently harvested at the perfect moment by experienced growers from around the world for ideal extract composition and efficacy. Each dōTERRA essential oil is also carefully and thoroughly tested using the strict CPTG Certified Pure Therapeutic Grade® quality protocol. Experienced essential oil users will immediately recognize the superior quality standard for naturally safe, purely effective therapeutic-grade dōTERRA essential oils." (source:  www.doterra.com)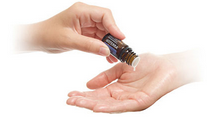 If you are interested in ordering essential oils or  learning more about how they can help YOU, please visit  http://mydoterra.com/puravidacrystal!