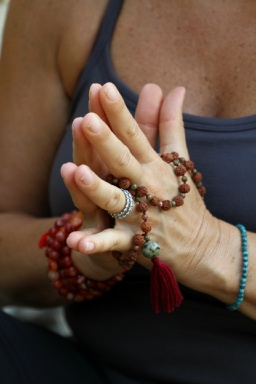 The holidays are upon us once again. The music in the air carries a touch of magic, and people you meet on the street seem to walk with an extra bounce in their step. Getting gifts under the tree seems to be at the top of everyone's list of priorities. Christmastime, with its emphasis on giving, is one of my favorite times of year.
Despite all the added excitement of this time of year, it's important to stay in the now. I personally tend to have difficulty fitting yoga into my schedule during this hectic season. Because the practice is so important to me, I make a point of fitting it into my schedule. I imagine that I'm not the only one who finds it difficult to incorporate yoga into the holidays, so I thought it might be fun to explore bringing Om home for the season.
1. Music
With three kids and a household full of activity, sometimes it seems as if I'll never find peace and quiet. When practicing yoga, I'm always certain to have soothing music playing in the background. Spotify and Pandora offer excellent tunes for Zen relaxation, and this music helps me to connect and focus.
 2. Aesthetics
To bring Om home for the holidays, create a sacred space. Although you may not always be able to get to a yoga studio, you can create one at home with little time and effort. Candles provide a soothing ambience, and Eastern statuary combined with an indoor fountain or two will help to cleanse the space. The use of incense burners or paper lamps is a great way to incorporate the element of fire as well as a pleasant aroma.
3. Hardwood Flooring
It's easiest to practice yoga on a hardwood floor rather than carpet. Laminate flooring will also provide a secure place for you to practice on your yoga mat. Carpet tends to throw off balance and alignment.
 4. Travel
Those traveling for the holidays need not fear. You can bring your yoga mat with you anywhere. You can try getting your Om on at your host's home. Another option is to find a hotel that offers yoga classes. Once, while traveling for work, I found a hotel in Orlando that offered free rooftop yoga classes each morning. What a fabulous way to unwind while on the road!
 5. Om Finder
If you'd like to find a yoga studio while traveling for the holidays, check out an app from lululemon atheltica called Om Finder. The app provides users with lists of yoga classes in an area. Each listing includes times, a map and an instructor's bio.
I hope these tips have inspired you to find harmony in your life over the holidays. Don't get stressed out with the pressures of the season. Remember to bring Om home for Christmas. May peace reign in your life now and always!
Blog posting provided by guest blogger, Kendra Thornton -Travel advocate, TV spokesperson, PR businesswoman, proud wife and mama.  
Follow Kendra on TWITTER.