Article as found in Nature's Pathways Magazine 1/1/13: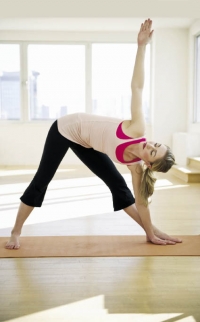 "Yoga has always been one of those things I really enjoy doing once I get into it but I have somehow never managed to stay in the routine until I found Pura Vida Yoga in Appleton. I live in the Appleton area and decided to try Pura Vida Yoga's studio after they moved to their new location on Nordale Drive since it was close to home. They were offering their first class free so I decided to take advantage of it and try the All Levels yoga course. I am now hooked!
The All Levels yoga class is perfect for anyone going to their first yoga class and also for the true yogi. You can make the class as difficult or easy as you would like it. Pura Vida Yoga offers Vinyasa (heated room) yoga studio classes. I truly think that nothing beats having had a stressful day in the middle of winter and then walking into a warm yoga studio feeling the calmness and heat surround you as you center yourself to the earth on your yoga mat. My fiancée recently purchased a new mat for me for my birthday and I think having the right mat is an important key to your yoga practice. My "Tree of Life" mat truly centers me. When you are in the perfect environment, centered is exactly what you will get at Pura Vida Yoga! So be sure to treat yourself to the perfect mat if you don't already have one.
Pura Vida Yoga offers classes for all levels and ages. After I tried the All Levels class, I decided to take the Power yoga class during my lunch hour. That is a favorite of mine because it truly feels like a workout with the heated room and fast pose changes. During the class, the instructor went around to correct everyone's movements and place their bodies in the correct position. I felt comfortable knowing I was getting the greatest benefit from the class that way, and that my sweat was worth it!
If you are new to yoga and are not comfortable starting at the All Levels class, they also offer a slower-paced intro-to-yoga class that will teach you the movements before joining a more advanced group. The owner, Crystal, also understands budgets and offers a Community All Levels course that is half the price of a regular drop in class fee and allows the whole family (all ages) to join in.
Another favorite of mine is Yin yoga, which offers long, slow and deep movements. It challenges your mind to hold the poses for a longer amount of time than your regular yoga class. It truly allows you to focus and forces you to center your energy and find your balance.
If you are a person with any health, age or body issues, Crystal offers the YOWI class, which is specifically designed for people with any sort of concern or issue. The course allows for time and patience from both the instructor and your fellow peers as well as more assistance and practice. This slower-paced practice is based on breath and structural alignment truly meant for the student's comfort.
If you are up for a more fun, outgoing, talkative class then you need to try the "Shake your Asana" class. This is exactly what it sounds like and is very fun and energetic! The music truly makes you want to shake your Asana!
As you can see, no matter what your skill level, age or comfort level, there truly is something at Pura Vida Yoga for you. Crystal has worked hard to provide a warm and comforting environment for everyone with a variety of classes and instructors to make you comfortable in your new or continuous yoga journey. If you haven't tried yoga before, this is a must-add to your New Year's resolutions list! I am always happier, more centered and calm when I am practicing yoga on a regular basis. You will know what I mean as you get into it and take advantage of the free first class. Be sure to mention this article in Nature's Pathways when you call! Join Pura Vida Yoga and support the centering of us all."
---