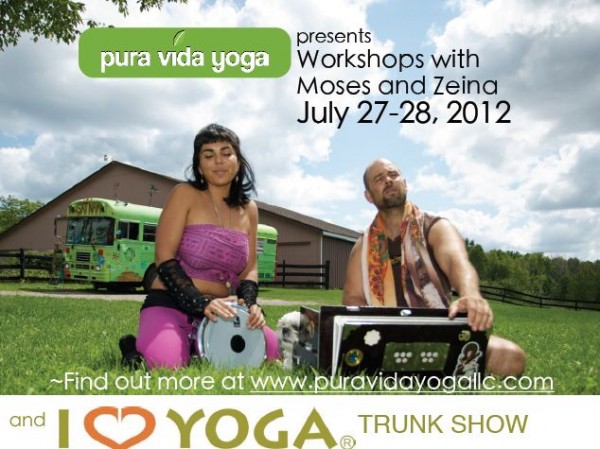 Friday, July 27th
5:30-7:30pm
Organic Inspirational Yoga Flow
Take a deep breath and let your practice unfold organically, naturally, the way nature intended. Enjoy creative sequencing, incredible music by Dennis Hawk, amazing adjustments and conscious breath work. Truly a unique experience Includes Gong meditation, chanting and deep relaxation. SUPER SWEET.
COST: $20
Saturday, July 28th
8:30-10:30am
Power Vinyasa Yoga Class
Join us for a mind, body and soul cleansing power yoga class that will strengthen you and refresh you. This fun, invigorating class includes live music from yoga musician and Kirtan artist, Dennis Hawk!   Moses & Zeina create an inviting space that encourages everyone to reach their full potential.
Come see what the buzz is about!
COST: $20
 11:00-1:00pm
Yoga of Nutrition and Food Healing Workshop
This class is for anyone with a Brain and a Beating Heart.
Vegan? Vegetarian? Raw Foods? Organic? Do you spend a lot of money on food but still feel like you are not getting what you need? Are you confused about what the perfect diet is for you? This Class will inspire and educate you on how to heal yourself and your family. Food samples will be provided!
COST: $30
For more info & registration links, visit the Workshops & Events page!!
Moses' story:
Moses Jas Jeet also know as Michael Kup is A perpetual seeker of truth and enlightenment. He is a down to earth spiritual lighthouse whose main inspiration is drawn from the infinite well of divine love. Moses is know to be straightforward while creating a safe, loving space to awaken to your full potential. 
After his Studies at San Diego State University he continued his life studies traveling the globe.   He then returned to his hometown of Chicago where he started Live Hard, a philosophy-based clothing company that received national recognition for its innovative marketing and product placement strategies. He has Authored  a book entitled Live Hard Because You Can and has appeared on numerous radio and tv news programs.
Seeking simplicity in his life, Moses moved to Miami in 2000.  Studying with the Late Master Alec Rubin for many years Moses began to develop his unique style of Organic Awareness Yoga. Moses also has a degree in Thai Massage from International Training Massage, in Chiang Mai, Thailand and also teaches Kundalini Yoga as taught by Yogi Bhajan. Moses is also the Founder of Iloveyoga.com and in addition to his responsibilities with I Love Yoga including visionary manifestation, overseeing manufacturing, design and product development, he continues to travel the globe teaching workshops, yoga conferences and retreats.
Currently Moses is traveling the country in His Green Bus running on Wast Veggie Oil and Love!
Moses has been seen in Fit Yoga Magazine, Yoga International, Yoga Journal and has taught at the Omega Institute in Rhinebeck NY, Yoga Journal Conference in Miami, Fit Yoga Conference in Los Angeles, Art of Vinyasa Conference in Las Vegas and Miami, The Midwest Yoga Conference, Telluride Yoga Festival and Karma Palloza in Miami.
Moses answers the question, "How do you love yoga?" this way:  "It enables me to nurture the divine light within so that I am able to help others tend to the divine light within each of them"
A little about Dennis:
Dennis Hawk is a yoga musician and Kirtan artist as well as Yoga Instructor. Dennis "Thunder Hawk" is also a Native American musician, bringing together Indians with dots and Indians with feathers." For more info and music see www.dennishawk.com or http://www.hawksounds.com.