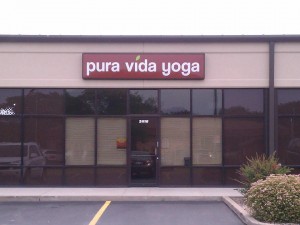 Article from Maureen Wallenfang's Buzz Blog, Post Crescent, 6/15/12:
"OPEN: Pura Vida Yoga finds home in former Grand Chute studio
Deborah Willamson ran her popular Midwest Power Yoga in Grand Chute for more than eight years, commuting from Kohler. With her growing teaching/traveling schedule, she saw the wisdom in moving her business closer to home, to Sheboygan Falls, and will open her studio there July 2. 
In the meantime, another yoga teacher saw Midwest Power Yoga's move as an opportunity to put down roots for her own yoga business.
Crystal Hill opened Pura Vida Yoga in the former MPY location two weeks ago.  As a result, hundreds of students never had to miss a pose. 
'I'm keeping the same staff and classes.  I'm keeping it as normal as possible,' said Hill.  Eighteen different teachers come in to conduct 30 weekly classes at the studio, which is heated to 90 degrees for power Vinyasa yoga.
The studio is at 2416 W. Nordale Drive, located next to Premier Fitness in the Floors by Roberts building. During road construction on Lynndale, enter from the Northland Ave side.
'I've been in business since 2010, but doing more private sessions and group classes,' said Hill, who owns this new yoga studio with husband Ezra.  She feels right at home here. 
'I was trained here and I taught a class here,' she said.  'It's my home studio.'
See class schedules at www.puravidayogallc.com. Phone: 920-851-1084. Summer drop-in prices are $7 per class."